Cena Furiosa
Madrigals of love and war by Montevedi
Cena Furiosa Opera
Cena Furiosa
Madrigals of love and war by Montevedi
Taken from Monteverdi's madrigals, Cena Furiosa displays the tragic opposition between love and hate, culminating in the final scene with the battle between Tancred and Clorinda. Life and death urges express themselves in baroque contortions. Mannerism triumphs, expressing the domination of conventions over human beings. The form is shattered, moving, without ever aiming for a finished product. It expresses the fundamental quivering of being, full of uncertainties and fractures. The actors function as visual instruments, listening to the orchestra and serving as a madrigal counterpoint.
Credits
Music direction: Marc Minkowski
Direction: Ingrid von Wantoch Rekowski
Costumes: Christophe Pidré
Lighting: Yves Godin
Singers: Paul Agnew (ténor), Nicki Kennedy (soprano), Silvia Hablowetz (mezz-soprano) / Emma Lyren (alto), Nicolas Domingues (alto), François Piolino (tenor) /José Canales (tenor), Suren Chahjan (bass) /Boris Grappe (baritone)
Performers: Christian Baggen, Bernard Eylenbosch, Dominique Grosjean, Philippe Résimont, Annette Sachs, Candy Saulnier
Orchestra: Les Musiciens du Louvre/Grenoble
Production: Festival International d'Art lyrique d'Aix-en-Provence
Coproduction: La Monnaie / De Munt (Brussels), Kunstenfestivaldesarts (Brussels)
Press
Un moment fort de cette édition, une heure quinze de scène d'une tension, d'une beauté visuelle étrange, de plus en plus bouleversante, jusqu'au dernier madrigal, cet opéra en miniature qu'est le Combat de Tancrède et de Clorinde qui s'écoutera dans un silence absolu, les larmes aux yeux.
(Le Soir, Michele Friche, 17/07/99)
Intelligente, insolente, Ingrid von Wantoch Rekowski prépare son nouveau spectacle : radical. Le seul chef d'œuvre du dernier festival d'Aix, c'est à elle qu'on le doit.
(Nouvel Observateur, Jacques Drillon, 10/99)
Mettant en opposition significative un apparent chaos visuel et l'organisation savante de la musique, s'appuyant ensuite sur la virtuosité des musiciens – et en particulier celle des chanteurs, otages consentants de la mise en scène – Ingrid von Wantoch Rekowski impose, avec une violence étudiée, sa triple conception de l'écoute, du regard et du monde. Sa proposition d'un raffinement visionnaire, inaugural, ramifié jusqu'en des tréfonds dangereux de l'âme et des sens.
(La Libre Belgique, Martine Dumont-Mergeay, 07/99)
C'est une laborantine lyrique, une expérimentatrice des corps et des genres, qui tente de curieux mélanges de voix, de timbres, de corps, de gestes : à sa manière, elle cherche l'art total comme d'autres la pierre philosophale. Sur sa musique intérieure, elle règle des opéras muets, fait chanter le corps de comédiens qu'elle réduit au silence pour mieux les intégrer à la distribution des chanteurs.
(Le Figaro, Jacques Doucelin, 13/07/99)
Die Theatralik dieser unglaublich freien Kompositionen, die den Prinzipien des stile rappresentativo gehorchen legitimiert eine stumme « Aktion » wie hier, wo sechs Renaissance-Granden in einem Dekor, das an Peter Greenaways Film Drowning by numbers gemaht, ihren überzüchteten Idiosynkrasien, konkret : ihren mit Juckreiz gepaarten Berührungsängsten freien Lauf lassen.
(Neue Zürcher Zeitung, Marc Zitzmann, 14/07/99)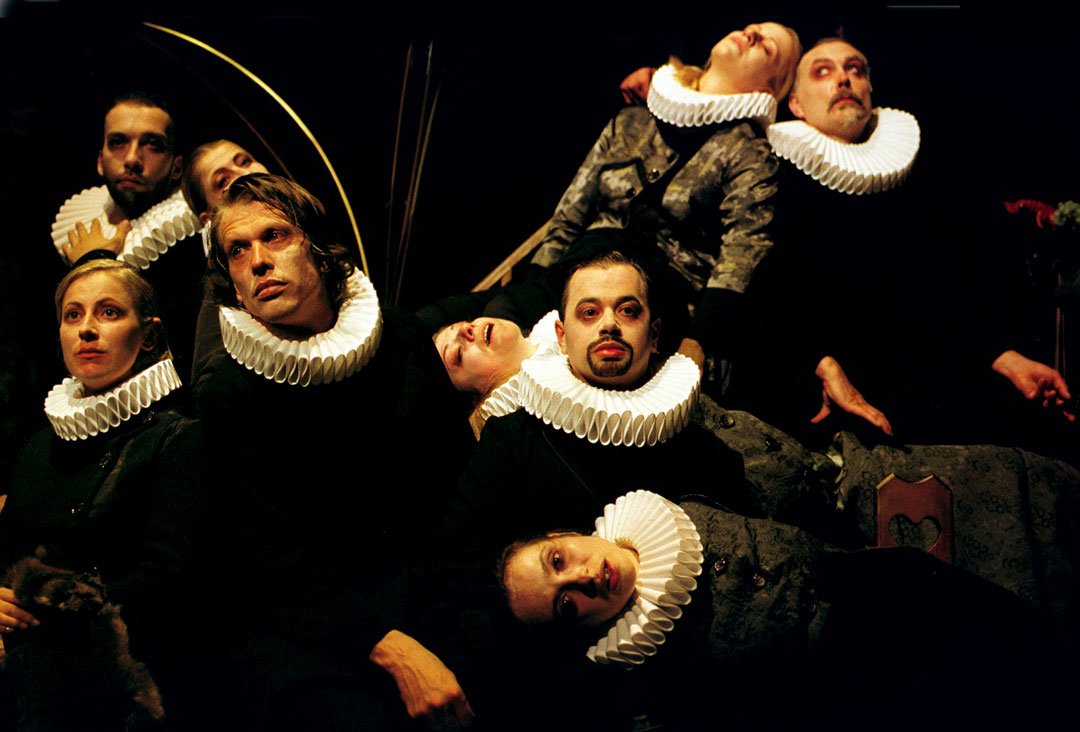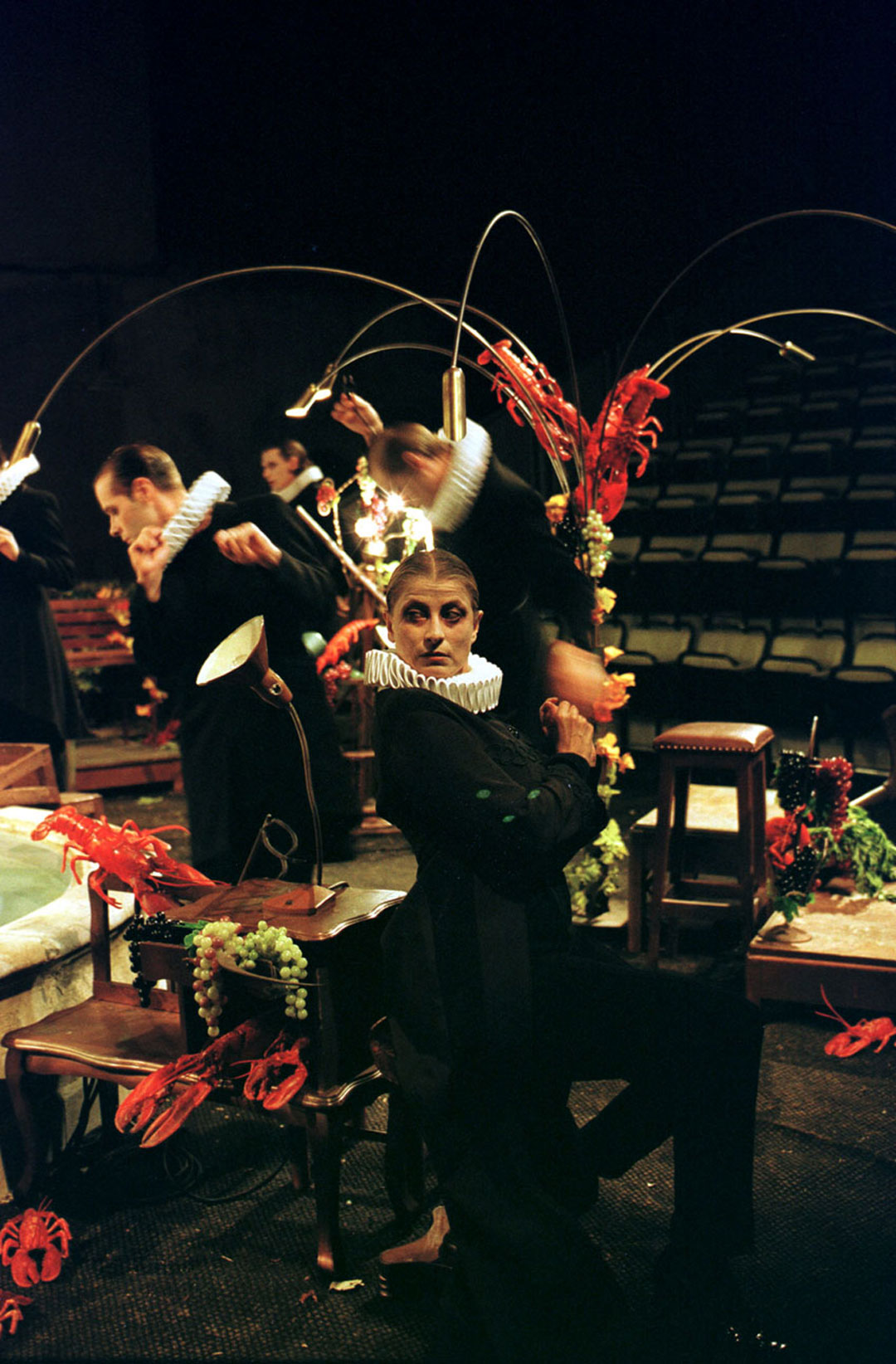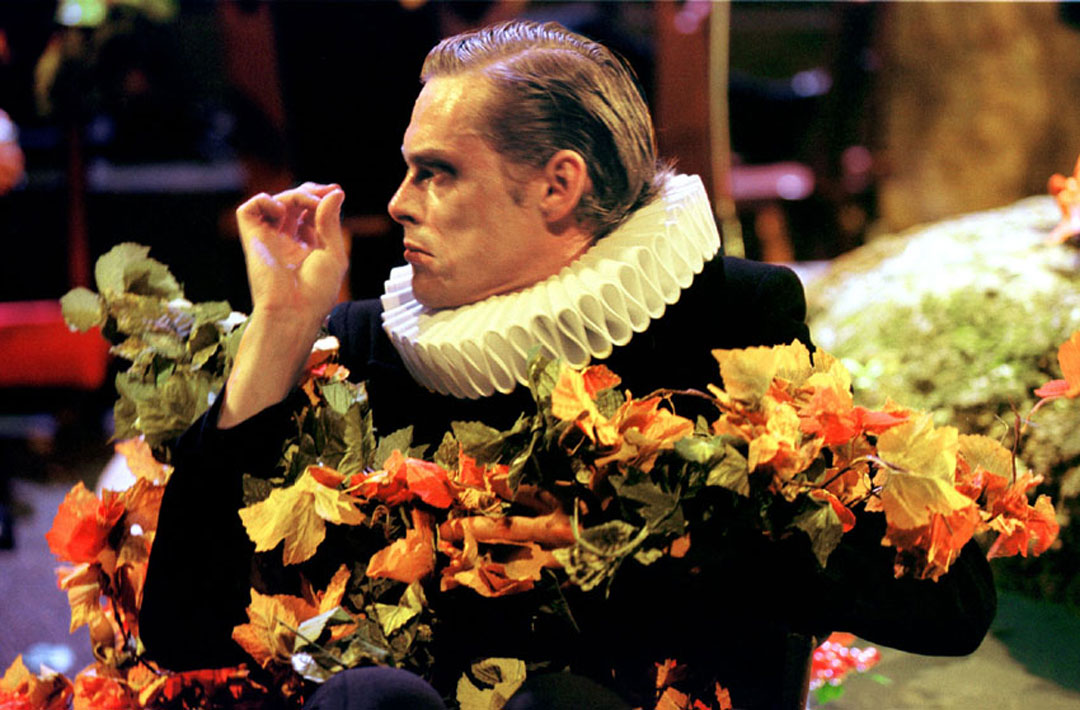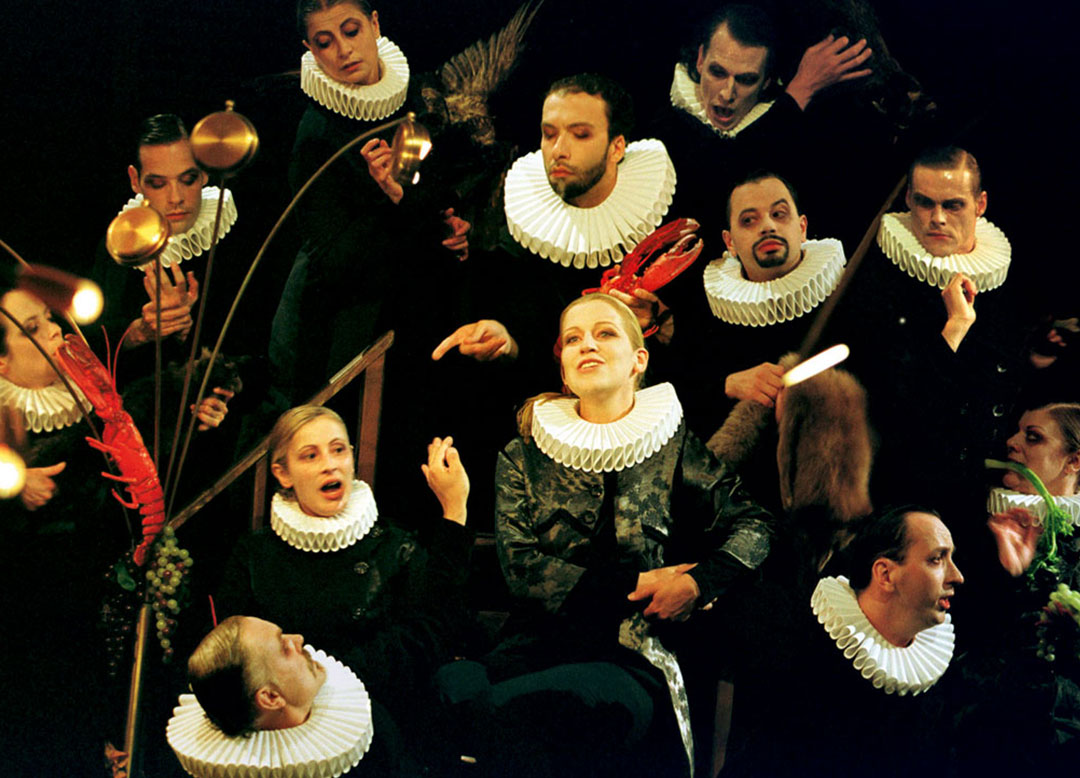 Cena Furiosa – ©Pascal Victor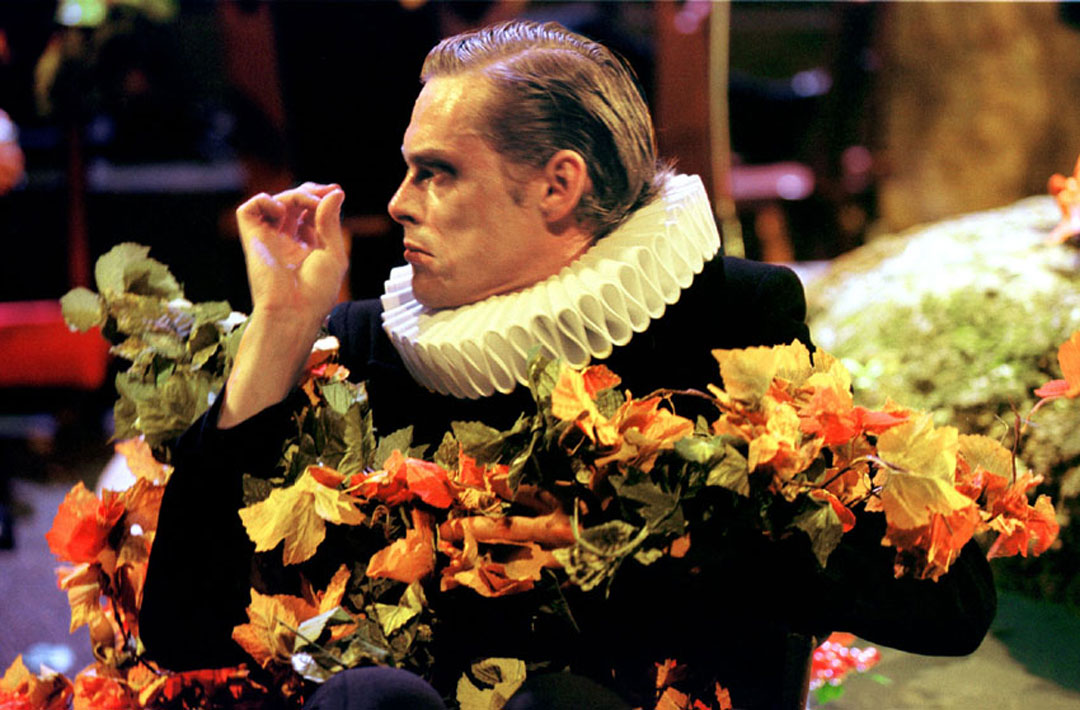 Cena Furiosa – ©Pascal Victor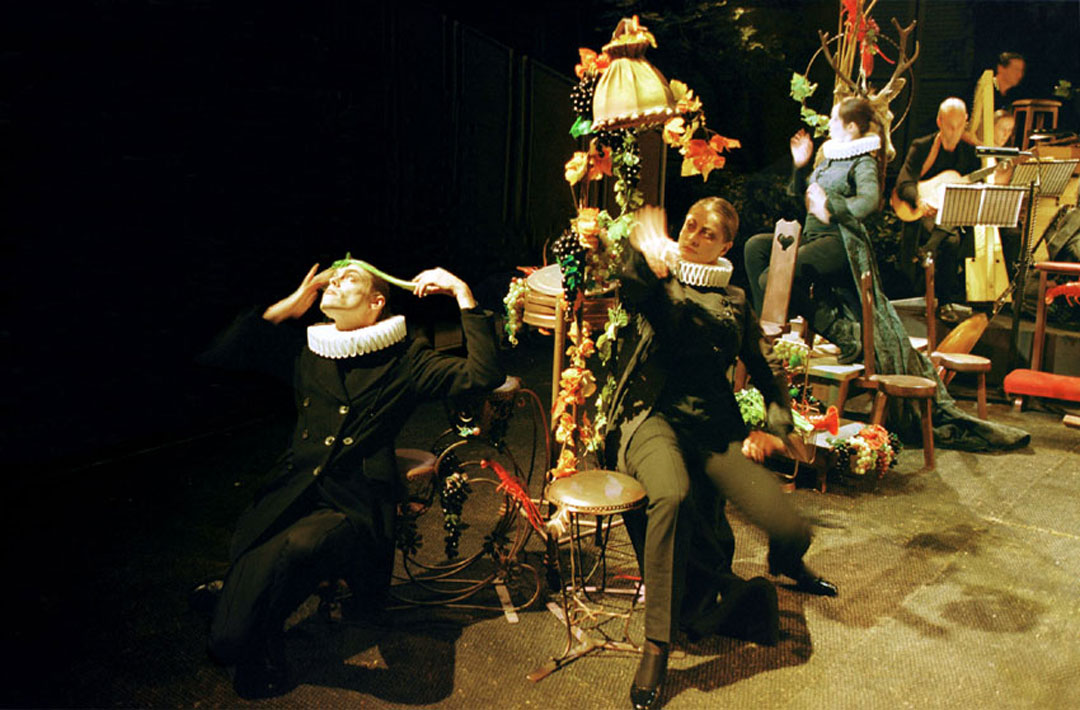 Cena Furiosa – ©Pascal Victor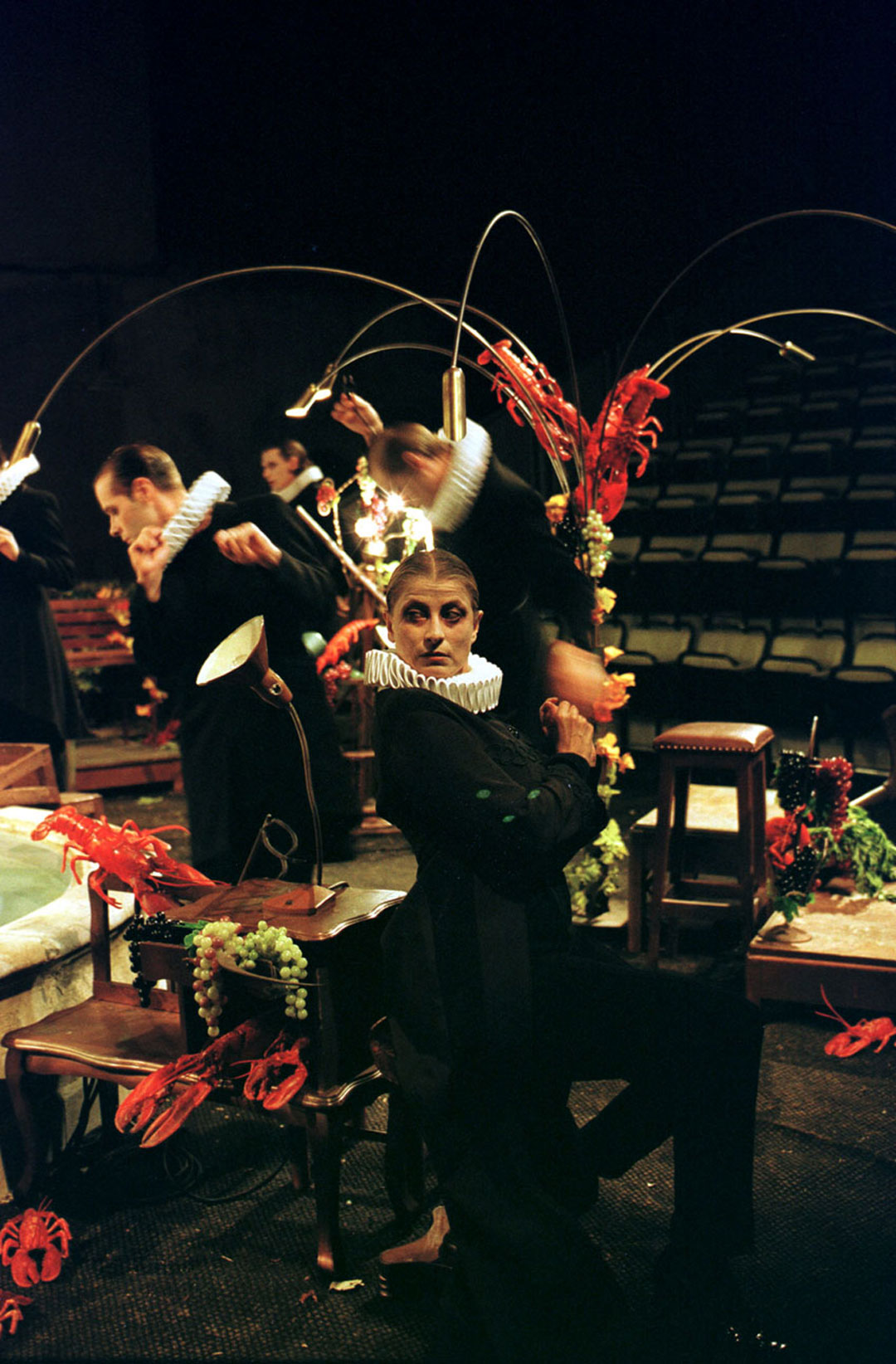 Cena Furiosa – ©Pascal Victor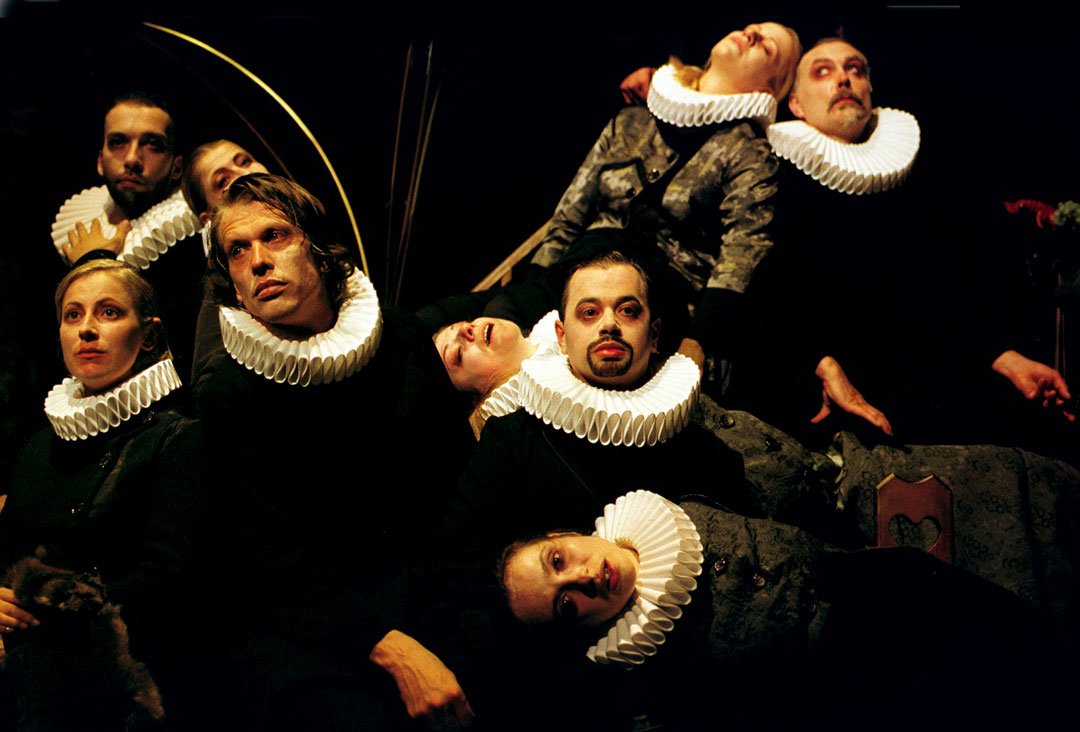 Cena Furiosa – ©Pascal Victor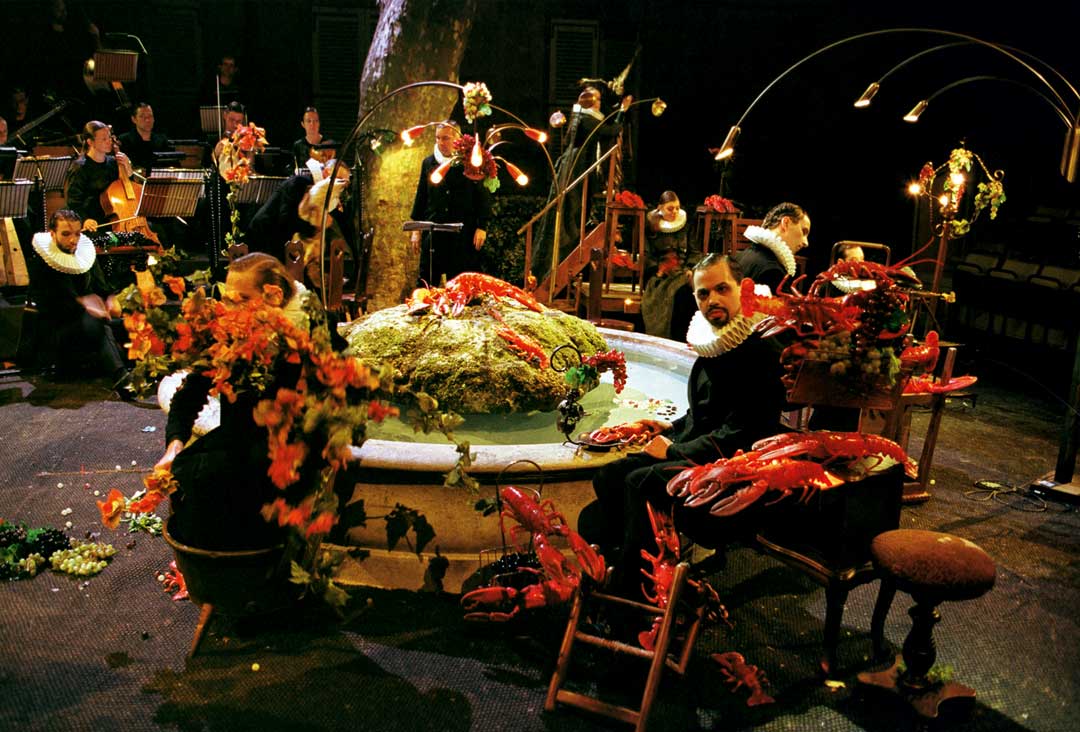 Cena Furiosa – ©Pascal Victor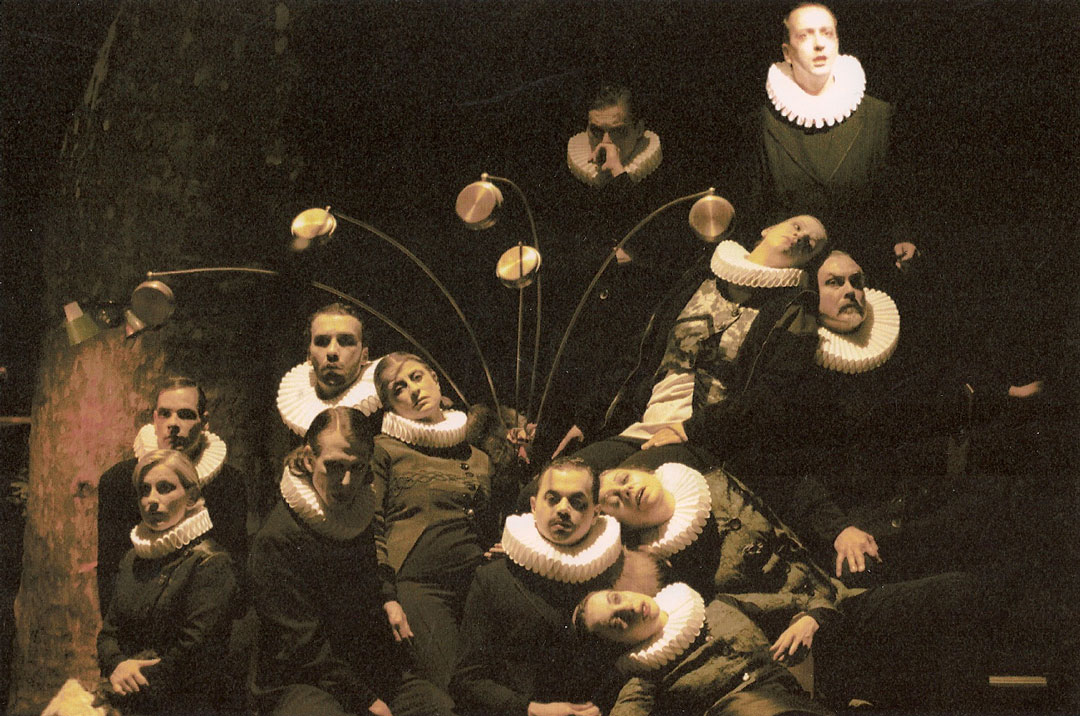 Cena Furiosa – ©Pascal Victor